Uschool is a small school with a large heart. Here the children have an opportunity to:
find out new things about themselves and the world;
practice controlling one's body and mind, the number of instruments for this is truly endless;
dive into the depths of most puzzling questions, check their own theories, conduct experiments;
freely move around the classroom during lessons;
dress according to one's mood;
truly be a child and be own self in all senses.
We doubt that for all these activities children would use our grown-up terminology «mastering of state and international curricula». This is a boring definition and our school, according to a scientific research conducted with our students, is anything but boring. The most crucial aspect is that all parties concerned are happy with the end result.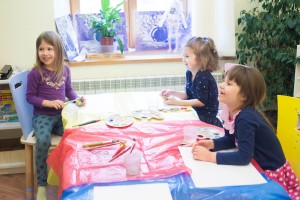 Our guidelines in the educational process are both interests and abilities of every child and goals that we have to reach according to the curriculum. At times, these are completely contradicting elements. So we take up a mission of juggling them around to construct a unique academic plan for each child that would satisfy both the child and the educational system. This plan cannot be copied or laid out a year in advance. It is put together sometimes on a daily basis, sometimes on a weekly. At all times, we keep a close eye on each and every child's progress, changes in pace or direction of interests. Reacting has to be quick! Some children learn at a more or less stable pace. Others might need half a year or so to suddenly just explode into absorbing vast amounts of information, which seemed too overwhelming before.
Children are divided into groups according to age and their level of English. Starting in first grade we have the following classes taught in English: Math, English, Reading, Geography and Science. We also encourage kids to use English in their daily life, thus the kids enhance their vocabulary, begin understanding spoken language and start talking. At the beginning of the language acquisition journey, there is no great emphasis on the completely correct grammatical constructions and at times the «English» sounds more like «Furbish» – but with time and practice, children absorb enough language and explode into proper speech. Having a completely friendly and accepting atmosphere is the main key for breaking any language barriers – this is the greatest motivation and moving force to start speaking a language.
Several times a year our children take the MAP (Measurement of Academic Progress) testing to see their progress in the international curriculum. This useful tool helps us see each child's growth, areas of strength and areas which require extra attention. Most of American and numerous International schools worldwide, including both KIS and PSI in Kyiv, accept these results during enrollment process.
We also offer a number of interesting extra lessons for any taste. In our schedule, you can find Mindfulness, Spanish and French languages, acrobatics and choreography, art, musical education, singing and chess. We are always open to testing new options! Anything can be a catalyst for introducing something new: wanting to learn about new methodology, having met a talented instructor, or a demand from parents for a particular class.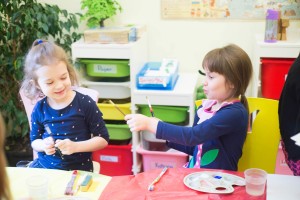 Homework  is an important part of our approach. As with anything important there shouldn't be too much of it. Assignments are give out once a week. From time to time, children take up different research and creative projects, which offer the opportunity to plan their time, work on research skills, design their presentations. There is only one specific request in our school – daily reading.
We have stepped away from using such evaluation tools as grades. For the first 6 years of their lives, kids have discovered this world and were certain that the discovery process and learning that comes with it, is interesting. We believe it is not correct to make children think otherwise, by starting to grade their work and shift their attention from the inner drive to external stimulation.
We highly value sleep, quiet time and rest for kids in a family circle. That is exactly why our classes start at 9 A.M. and go until 2 P.M. We are located in the picturesque historical center of Kyiv, thus our kids have a lot of opportunities to spend time outside absorbing the beauty of our city.