5 days a week children, ages 6 to 10, gather in a cozy classroom. For 5 hours they come to a place where they can:
find out new things about themselves and the world;
practice controlling one's body and mind, the number of instruments for this is truly endless;
dive into the depths of most puzzling questions, check their own theories, conduct experiments;
freely move around the classroom during lessons;
dress according to one's mood;
truly be a child and be own self in all senses.
We doubt that for all these activities children would use our grown-up terminology «mastering of state and international curricula». This is a boring definition and our school, according to a scientific research conducted with our students, is anything but boring. The most crucial aspect is that all parties concerned are happy with the end result.
Alternative International school Uschool is small, with a maximum of 10 kids in a group.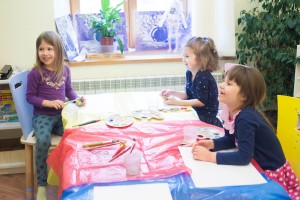 Our guidelines in the educational process are both interests and abilities of every child and goals that we have to reach according to the curriculum. At times, these are completely contradicting elements. So we take up a mission of juggling them around to construct a unique academic plan for each child that would satisfy both the child and the educational system. This plan cannot be copied or laid out a year in advance. It is put together sometimes on a daily basis, sometimes on a weekly. At all times, we keep a close eye on each and every child's progress, changes in pace or direction of interests. Reacting has to be quick! Some children learn at a more or less stable pace. Others might need half a year or so to suddenly just explode into absorbing vast amounts of information, which seemed too overwhelming before.
We have stepped away from using such evaluation tools as grades. For the first 6 years of their lives, kids have discovered this world and were certain that the discovery process and learning that comes with it, is interesting. We believe it is not correct to make children think otherwise, by starting to grade their work and shift their attention from the inner drive to external stimulation.
Assignments in math, reading, writing and other basic school subjects are all components of one lesson without division into separate classes. We also offer a number of interesting extra lessons. In our schedule, you can find French language, physics, acrobatics, coding, art, musical education, singing and speech therapist. We are always open to testing new options! Anything can be a catalyst for introducing something new: wanting to learn about a new methodology, having met a talented instructor, or a demand from parents for a particular class.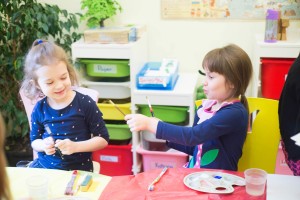 Even though our schedule is bubbling with activities, free play easily fits in. Our school kids closely interact with their younger colleagues from IMN. One prepared environment lets you choose a wide variety of companions, including preschoolers who often times come from very different backgrounds both cultural and religious, who communicate in many different languages at home. This provides our kids not only with new experiences, but also aids in acquiring our school language – English.
English surrounds our kids naturally like air. We communicate in English during the day and while completing our international curriculum. In these conditions, children easily and quickly build their vocabularies, grasp the meaning of words and make sense of sentences. To keep it short – children begin communicating in English. Usually talking is one of the first steps. We are not terrified by less than perfect grammatical constructions combined with Furbish – it all sorts out itself, just in the same way as babies make sense of their mother tongue.
We put a lot of time into organizing the academic process in such a way that everyday homework is completely unnecessary. Our homework assignments are projects on topics that interest our kids. These assignments give opportunities to practice time planning, research skills, presenting ones findings and ideas in an engaging manner.
We highly value sleep, quiet time and rest for kids in a family circle. That is exactly why our classes start at 9 A.M. and go until 2 P.M. We do offer a full-time option where kids stay with us from 2 to 5 P.M. Children who require a nap have a chance to take one. Other children have quiet time and many walks in the picturesque historical center of Kyiv.